Comfortable lodging in the historic centre of Oaxaca
Please read our COVID-19 Best Practices:
The hotel follows all local authority guidelines.
* We have a Certificate on display issued by the local authority.
* Disinfecting floor-mats at the main door.
* Sanitizing hand gel available inside the hotel.
* Luggage disinfection at reception.
* Health and temperature checks of all guests at reception.
* Face coverings are obligatory inside the hotel, if you do not have a face mask we can provide you with one.
* Email can be used to check-in and check-out to avoid physical contact.
* Social Distancing is to be practiced by all guests and staff.
* Bank cards can be accepted instead of cash.

Cleanliness and Hygiene
* Our cleaning products are Hospital grade and of a sufficiently high standard to be fully effective against COVID.
* Rooms are disinfected after each guest and can be requested after 4 days of occupation (if preffered by guests).
* Rooms are not opened or available for access after they have been sanitized.

Each suite has 4 distinct areas:
1) Bedroom; with 2 queen-sized beds, large wardrobe space, drawers, bedside cabinet, bedside lamp, TV, telephone and strong box.
2) Lounge; with sofa, armchair, coffee table, table lamp, chair and desk.
3) Kitchen; 100% equipped with fridge, stove, sink, electrical appliances, dining table and chairs and a purified water dispenser.
4) Bathroom and shower with washbasin and mirror.
Oaxaca City is a colonial treasure considered by the UNESCO as a Cultural Patrimony of Humanity since 1972. The city has a very welcoming atmosphere along with a vibrant art and culture scene which makes it an ideal vacation spot for some memorable holidays. The Hotel Parador Santo Domingo de Guzman is a great place to stay to make the most of your time in Oaxaca. It has a super central location right on the main pedestrian walkway, with easy access and parking for vehicles, perfect for an enjoyable stroll into the stunning colonial heart of the city of Oaxaca, surrounded by majestic buildings such as the Ex-Convento de Santo Domingo and many other fine examples of colonial architecture.
Hotel Parador Santo Domingo offers fully-functioning, comfortable and spacious suites with complete hotel services at very reasonable prices. Each suite has a large bedroom with 2 queen-sized beds, a bathroom, a lounge, and a fully-equipped kitchen. To make your stay as comfortable as possible, each suite has cable TV, ceiling fans, a telephone, a desk, free internet access and a small safe for your valuables.
Additionally, in the secure private parking lot, you will be able to park your vehicle right at your own front door (on the ground floor), and be able to jump into the private swimming pool and relax on the sun-terrace surrounded by attractive palm trees and semi-tropical gardens.
All suites are fully-furnished and offer a total floor space of approximately 50 square meters. Guests are welcome to make use of any of the complete hotel services provided by our staff in the reception area.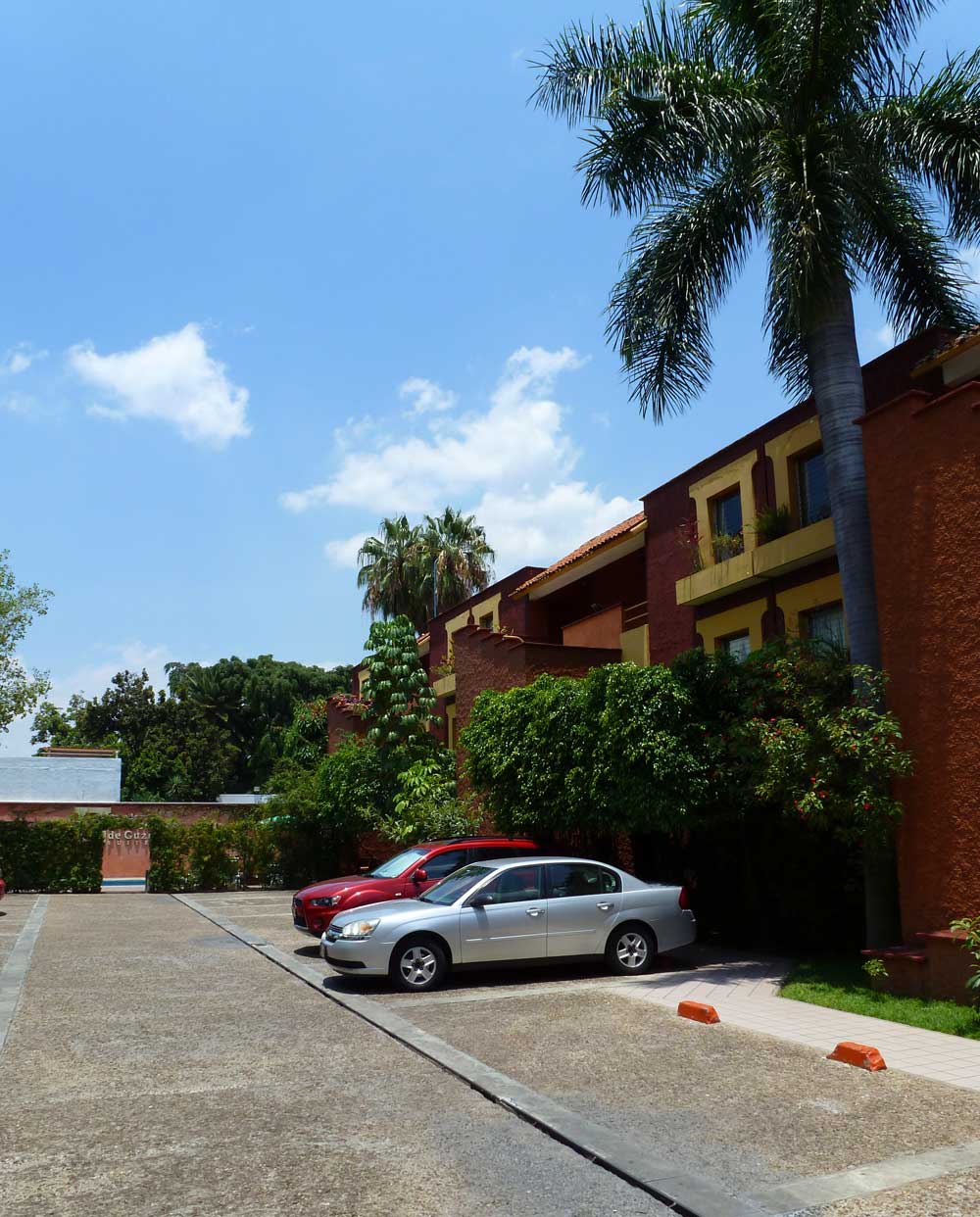 Short-Term Furnished Apartments in Oaxaca City Center, Mexico.
Also of interest around the city, you will find the fascinating archaeological sites that reveal the cultures of centuries of indigenous civilizations. We are always more than happy to assist you in making any arrangements for tours, trips, and outings while in our lovely city.